Below is the page I found on the Fillingham Castle. I have recreated it here so it can't be deleted by accident. Below this web page reproduction, is the information I received about the castle's history. The actual site's URL is:
http://www.lincsheritage.org/bpt/properties/west_lindsey/gateway.html
Created, 02 December 2000
Gary Wayne Fillingame
---
---

Buildings at Risk
West Lindsey
Address
Gateway, entrance lodges and wall to Fillingham Castle
List Grade
II*
Conservation area?
No
Condition
Very Bad
Risk factor
Extreme Risk
Market status
Contact Conservation Officer
Directions
This building is situated seven and a half miles to the north of Lincoln, adjacent to the A15.
Description
The gateway with its attached lodges and wall is a former entrance to Fillngham Castle. Built in 1775 of limestone ashlar, they were possibly designed by John Carr. The building commands views of Fillingham Castle, which is listed grade II, across a landscaped park.
Reason for Risk
From the roadside there appears to be little wrong with these buildings, but when viewed form the park it is possible to see that the lodges have suffered partial structural collapse, with bowing walls and missing roof tiles.
Preferred uses
Residential.
Contact
Conservation Section
Planning Services
Development Services Directorate
26, Spital Terrace
Gainsborough
Lincolnshire, DN21 2HG
Telephone: (01427) 615411 Ext. 264/268
Back to Buildings at Risk index of properties – text only | with thumbnails
---
---
I used the "Feedback" button on the top of the page, to send an e-mail to the Heritage Trust of Lincolnshire. I asked if anyone knew anything about the history of the castle, or where I could go to research it. Below, is what I received.
---
Dear Gary Fillingame
Sir Cecil Wray is said to have built this Gothic Castle in 1760. It is a large square Gothic castellated mansion, with a circular bastion tower at each corner. John Carr may have been employed to design it. The Wrays of Fillingham were descended from Lord Chief Justice Wray who settled at Glentworth in the reign of Elizabeth I. The last Sir Cecil Wray, died at the castle in 1805 and his lady in 1825 aged 89. In Whites 1856 Lincolnshire John Dalton was Lord of the Manor and owner of the parish and resided in the Castle occasionally. Pevsner in The Buildings of England Lincolnshire writes about the Castle so it is still standing. I know English Heritage and the National Trust do not own the Castle so it must be privately owned.
Hope this is of some help
Sally Blackbourn
Adminsitrator
---
Dear MS Blackbourn,
Thank you very much for your help with the Fillingham Castle. I am working with about 50 other people on our family genealogy, which comes from the surname, Fillingham. Your thoughtfulness has helped dispel some of the legends floating around over here in the US. Thanks for helping us understand!
Sincerely,
Gary Fillingame
Atlanta, Georgia, USA
---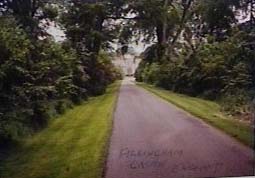 Photos courtesy of Suzanne Weathers
---
Back to
---
Homepage:
Cemetery List:
Descendant Chart:

---

This page has been visited
times.

---